Name: Geschmack Hurrikan
Age: 19
Appearance: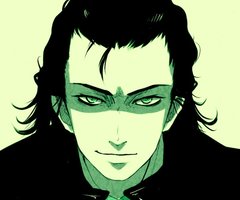 Rank: Anbu
Elements: Wind
Specialties: Genjitsu/ infiltration/ persuasion
Village: Konoha
Personality: Geshumack is a trickster. He loved to pull pranks in his youth and still does from time to time. He is also very well spoken, and his a voice that simply draws your attention to him.
History: Geschumack was born a child of rape. His mother, a widow shinobi from konoha was out on a mission when she was ambushed by the rounin who killed her husband. She was knocked out, dragged to a cave, tied up, and raped. She was held captive for over a week, each day being forced into brutal, unprotected intercourse with her the man who she hated so. By the time she was saved, when a rescusee team arrived, Geschumacks mother was a broken woman.
Nine mouths later, Geschumack was born. And it was the most horrid moment in his mother's life in nine mouths. Even as a baby, Geschumack bared his father's face. He was given up for adoption and his mother cut open her throat. Her note she left only said 'I can not be allowed to live in this world knowing that I birthed a monster into it.' Geschumack only found out about this upon joining the Anbu years and years later.
While in foster care, Gescumack was given to the shinobi to raise. He was put through the academy where they found his had a nature talent for genjitsu...and getting want he wanted. Parhaps a gift from his father, but Geschumack was quiet the sliver-tongued devil. He easily tricked his fellow student into whatever he wanted, and through his reputation as a trickster grew, his charm and sharp tongue kept him from being hated. He was especially popular with the ladies.
His instructors, who knew of his birth father, knew that Geschumack, who if left unoccupied, my turn to be very much like his father. So they took the boy to the Anbu right after graduation, to be trained farther. The Anbu were happy to accept anyone who they could use to gain information that who be otherwise unobtainable. This was also when Geschumack learned of the fate and history of his mother and father. Despite knowing, Geschumack stayed calm, both body and mind. He claimed "Why weep for someone who i never knew." He was assigned to Feuer's team as an infiltrator and hes proven to be a great one indeed.
Relationships: Information as been blacked out to protect friends and family
Goals:
Likes:
Dislikes:
Additional Notes: