Name: Seiben Haruko
Age: 19
Appearance: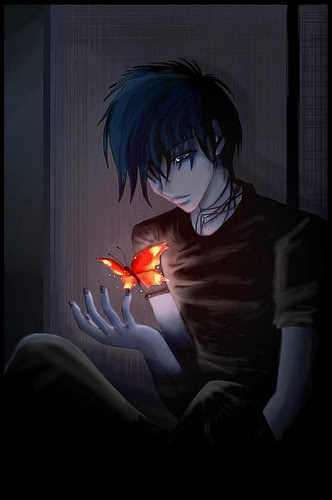 Rank: anbu
Elements: fire/lightning
Specialties: swordplay/ taijutsu / weapon mastery
Village: konoha
Personality: very isolated and distent form the rest of the world. He tents to be a loner, and mocked for it. Has a wicked temper and a sharp tongue and uses it against anyone who makes fun of him.
History: Seiben grew up the only child to a single mother. His father, an anbu of the Hidden Leaf, died in the field. Seiben had a simple, yet somewhat sad childhood. To raise him and keep the bills payed, his mother had to work very long hours. She was not a shinobi like her late husband. This meant Seiben was forced to be by himself for hours upon hours. He grew to be very shut in.
As he grew up, te few kids that he would play with would often bully and pick up the small boy. They would call him names like ghost or freak. However, for such a small child, seiben had remarkable strength, but lacked self-control when he was angered. In an attacked of rage, he started to beat up another boy who had made a commit about his late father. The boy that Seiben picked on walked away with only a few bruises because a passer-by broke up the fight. However, this fight only farthered the bullying. And when Seiben entered the acadmey, his loneiness continued to grew.
When in the his irst year in the academy, Seiben's mother was stuck with a terrible disease that crippled her and left her bed ridden, and dispite the effort of her docters, she passed away only a week later, leaving Seiben alone in this world. This broken Seiben's mind. He was conviced he would forever be alone in this world. He sat in the back courner of his classes, avoiding everyone in the room including his instrutors. He trained, ate, and lived all by himself by the grace charity of the Anbu, who owed Seiben's father a debt of garditute for his servce.
Seiben Graduated from the academy, receiveing high marks, highest in the class. His best grade was in weapons use and mastery. But even that didn't stop the bullies. They continued to harrase the poor, misfournate kid, until once aain he snapped. He was being picked on once again when a young genin, same age as him, threw a rock and yelled 'Your the reason your mom is dead.' This once again, caused Seiben to go into a thoughtless rage. Grabbing a fallen branch of a tree, seiben used it as a sword and began to beat the bully genin senselessly. The genin was sent to the hospital with brken ribs and Seiben was taken before the hokage. But despite his act of violence, the Hokage did not call for punishment. Rather, he had Seiben erased from the village and placed the boy in the care of the brutal training of the Anbu. There he would learn control of his rage. In his mind however, a different end result was in sight. A way to end all the bullying.
Relationships: Father(KIA) Mother (deceased)
Goals: to stop the bullying
Likes:
Dislikes:Bullies
Additional Notes: