Name: Seiya Tsubasa
Age: 17
Appearance: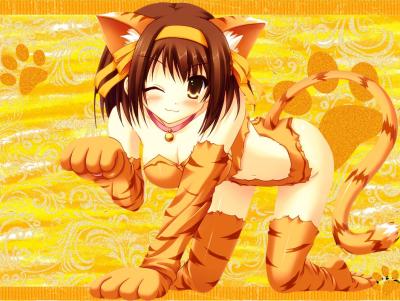 Rank: Civillian
Specialties: Stealth
Village: Currently residing in Kirigakure
Personality: Seiya's temper is like a tigers, happy and harmless one minute and feisty and dangerous the next, with a rambunctious attitude. She's not afraid to use those claws if you piss her off so watch out and also NEVER call her kitty or treat her like a pet. Seiya has a soft spot for protecting her friends and if you mess with them... lets just say you don't want to see when that happens.
History: Seiya has no idea about her birth nor her birth parents. For as long as she can remember she has been a slave. She has no idea how she became a slave, she can't remember anything besides being a slave for as long as she remembers, She isn't easily controlled, she has fight in her and won't give up to easily.
But it seemed everything changed when she met a shinobi called Chiba, he seemed to soften her and although it seemed she was wary and distrusting of him to start he grew on her, eventually saving her from being sold again, selling his sword, a highly priced and sort after weapon in exchange from her. It seemed to expand aafter that, Seiya not wanting to be away anymore, she had grown close to him, even loved him now and in thanks for rescuing her on numerous occasions, not just the slave trade she kissed him and promised to stay by his side as long as he wanted her.
Relationships: Chiba (Boyfriend/ Master)
Goals: To try and keep Chiba from harm and to learn to be a shinobi
Likes: Seafood, Catnip, The Moon, Traveling, Her ears being petted (makes her purr), cats and Kittens, Sleeping, Hunting, Being with and around Chiba.
Dislikes: Water, Fire, Bright Light, People yanking on her tail, Dogs, people hunting her, when people stare at her, being in tight restrictive clothing, being in confined spaces, hospitals, being treated like a harmless pet.
Additional Notes:
Her Favourite threat to use is Castration
NEVER EVER call her Kitty (it's the equivilant of people calling Choji Fat)